We produce hotbeds, fresh vegetables and fermented cabbage. We are integrators to farmers, we organize the production, we package and trade vegetables.
THE BEST PRODUCTS FROM OUR GARDENS
Carska bašta was founded in 2008. The idea was to unify farmers and to open a distribution center so that we could appear on the market together. Due to our resilience and dedication we can proudly state that we are well known on the market and we are supplying major companies with our products.
The address to our cold storage is Dr. Tihomira Ostojića BB, Zrenjanin. Production of vegetables, fermented cabbage and the production of hotbeds are located round the facility.
"Svaka čast na ispoštovanju roka! Sve je bilo po dogovoru, ispoštovali svaki rok zadat! Još jednom sve preporuke."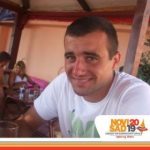 Rasad proizveden u Carskoj bašti je vrhunskog kvaliteta, pripremenjen za gajenje u različitim uslovima sredine. Posebno je značajno istaći dobro razvijem korenov sistem koji omogućava bržo ukorenjavanje. Proizvodnja i logistika su na zavidnom nivou.
Pouzdan rasad za sigurnu celogodišnju proizvodnju povrća. Tim na koji se možeš osloniti Carska Bašta.